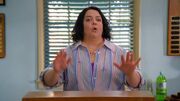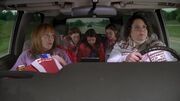 Nancy Donahue is the Hecks' neighbor and president of the booster club. The Donahues are portrayed as the idyllic family Frankie yearns for herself. Nancy is runner of many clubs including the Orson Parade Float Club. Frankie Heck is jealous of her seemingly perfect family even though Nancy's nice to her and thinks they're friends. When Nancy and her family were at Disneyland, Frankie took in her mail and Nancy gave her a magnet. Nancy has a son Sean who is Frankie's son's Axl's age and they are friends but do compete for things like a lifeguard position. Whenever Nancy and Frankie are somewhat hanging out, Frankie and her family look like fools in front of Nancy. When Nancy held Orson Indiana's 100th Orsontennial, Frankie and Mike were drunk and chose to sign up for the cow float. Frankie and Mike were smack talking about Mrs. Donahue and her husband in the float with walkee talkees and realized Nancy and him had the other ones hearing all of this. In the same episode, The 100th, Nancy made a point she doesn't like the Glossner's kids. Nancy and the Donahue family seems to upgrade a lot as in one episode Axl said he couldn't hang out with Sean because The Donahues were driving around in their new car.  
Ad blocker interference detected!
Wikia is a free-to-use site that makes money from advertising. We have a modified experience for viewers using ad blockers

Wikia is not accessible if you've made further modifications. Remove the custom ad blocker rule(s) and the page will load as expected.