Morgan
is Axl's ex-girlfriend. She is peppy and cheerful and is described by Frankie as 'Going places' .They dated during
The Break-Up.
Frankie and Mike loved her at first and continue to even after her and Axl break up. They get back together in
Worry Duty
, but then break up again in the same episode. Morgan was shown to be a very confident and educated young girl, but also was shown to be quite pushy and controlling towards Axl.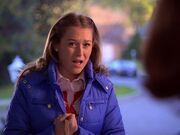 She is also quite two-faced and deceitful. She's all smiley and nice to your face, but behind your back she can be quite mean.
Trivia
Morgan is never mentioned again. 
When Frankie had a huge disliking towards April, she seems to forget how bad Morgan was.
They broke up five times