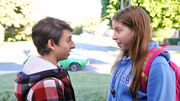 Matt is Sue Heck's second ex-boyfriend. He was part of the wrestling team at the high school until he moved away. He won Sue over because he showed his love by creating a team chant with the wrestlers for Sue which she loved and after that the became boyfriend and girlfriend.  He ended up falling in love with another girl and broke up with Sue which broke her heart. 
Appearances
Edit
Ad blocker interference detected!
Wikia is a free-to-use site that makes money from advertising. We have a modified experience for viewers using ad blockers

Wikia is not accessible if you've made further modifications. Remove the custom ad blocker rule(s) and the page will load as expected.