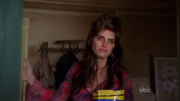 The Glossners are the family living and the end of the block in the Heck's neighborhood. The mother's first husband was a drug addict. They are shown to be slobs and often leave out many of their belongings in their yard or around their house.
The family consists of Rita Glossner and her sons.
The first episode they appeared in was The Neighbor. Their dog is terrorizing the neighborhood, but Rita doesn't seem to care, as she says it is her son's dog.
In another episode, Rita accuses Frankie Heck of stealing her hose. When Frankie says she didn't do it, Rita spits, throws a can of beer on the ground, and threatens to terrorize them if she doesn't get "her" hose back. She does not accept a hose Frankie gives her, saying it is not hers, and eventually Frankie returns the original hose.
Rita's youngest son, a boy still in diapers, has been seen on multiple occasions riding his bike around the neighborhood and coming home at late times. If his mother asks him where he's been, he refuses to tell her.
Though Rita says her boys are "well-behaved", they never seem to live up to this, often trashing up their neighbor's yards by tearing out plants and throwing garbage, stealing other people's belongings, cussing, and running around whenever they want wherever they want. Rita herself has also been seen stealing and throwing beer cans and other objects into her neighbors' yards.
Trivia
They first appeared in the episode, "The Neighbor".
The actors portraying the sons have changed a few times.
In one episode, Frankie offered Rita some groceries after seeing her not being able to buy all of their groceries, but Rita did not thank her.