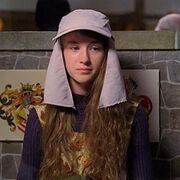 Cindy is the girlfriend of Brick Heck. Characterized by long hair, French Foreign Legion's hat and personality quirks, she eventually becomes part of Brick's posse, hanging out with him and Troy. She gets invited to share Thanksgiving with him, but their relationship is threatened when Cindy reveals her parents are losing their house, forcing them to live with her grandmother a few more houses away from the Hecks. Brick decides to break up with her in Vive la Hecks, but it turned out to be a bad decision, he later regretted. They got back together in The 200th.
Cindy stands five feet and seven and a half inches tall.
Ad blocker interference detected!
Wikia is a free-to-use site that makes money from advertising. We have a modified experience for viewers using ad blockers

Wikia is not accessible if you've made further modifications. Remove the custom ad blocker rule(s) and the page will load as expected.